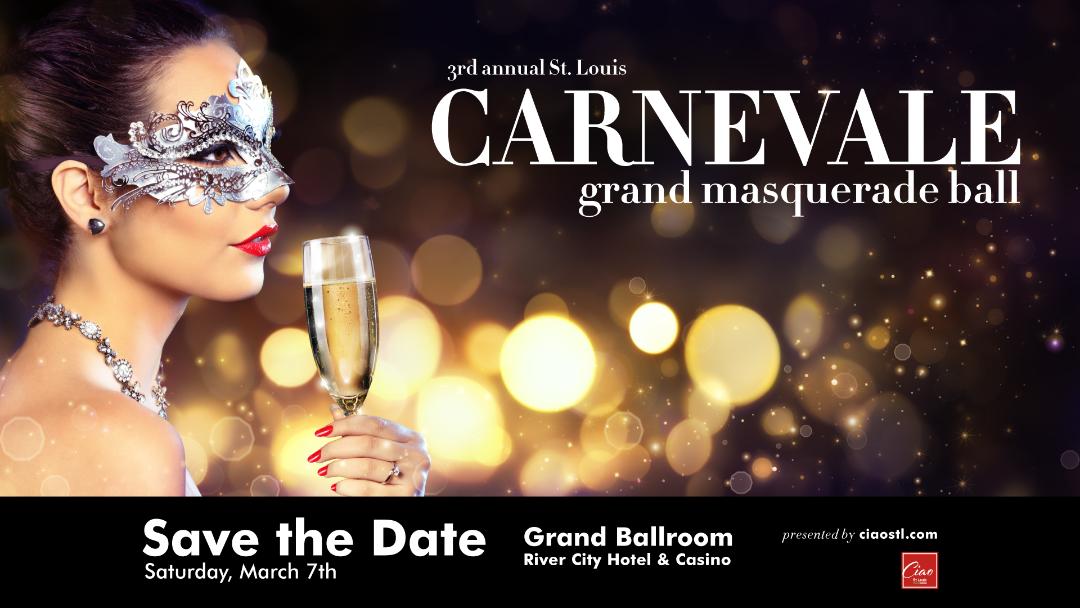 Carnivale
March 7 @ 7:00 pm

-

10:00 pm
Carnevale Grand Masquerade Ball This is a formal event; black tie optional. Masquerade masks in the style of Venice's Carnevale
About this Event
Ciao St Louis' Third Annual Carnevale Grand Masquerade Ball
This is a formal event; black tie optional. Masquerade masks in the style of Venice's Carnevale not required, but strongly encouraged! Tickets $125 per person
Date: March 7, 2020
Time: 6:30 PM – 11:00 PM
Place: River City Casino Grand Ballroom
Tables of 8 or 10 are available.
Event includes:Cocktail hour and appetizers 6:30 – 7:30 pm
Appetizers: Spinach and Artichoke Arancini (Italian Riceballs), Cantaloupe and Prosciutto skewer, Three Cheese Crimini
Dining Stations Open at 8:00 pm
Beef Tenderloin accompanied with Garlic Mashed Potatoes and Italian Grilled Vegetables
Italian Antipasto….Various Italian Specialty Meats, Cheeses and Olives
Jumbo Shrimp and Calamari Seafood Salad
Cibare Italian Salad and Assorted Bread Baskets
Sausage Broccoli and Pecorino Pasta
Desserts….Mini Cassata Cakes, Tiramisu, Creme Brulee', Venetian Carnevale Fritters, Fresh Fruit Display
Full Premium Open Bar….Cocktails, Bottled Beers, Wine and Prosecco
Signature Cocktails…Limoncello Martinis and Aperol Spritz…an epic and traditional Italian Cocktail
The night kicks off with a special performance in a typical Venetian style; followed by Music and Dancing, along with other surprises throughout the evening.
We are looking forward to a beautiful evening, with great music, great food and great company! If you have any questions or need additional information, feel free to contact us!
Sincerely,
Laura DiMaggio.
Ciao St Louis Event Chairperson
Email: lauraadimaggio@gmail.com
or
Marianna Vitale
Ciao St Louis Event Co-Chair
Email: mavitale61@aol.com
Date: March 7, 2020
Time: 6:30 PM – 11:00 PM
Place: River City Casino Grand Ballroom
Tables of 8 or 10 are available.