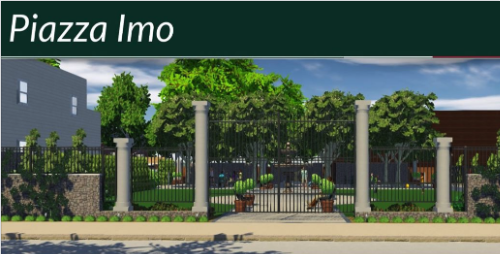 Piazza Imo Grand Opening
August 18, 2019 @ 1:30 pm

-

2:30 pm
Grand Opening of Piazza Imo is scheduled for August 18th with Mass at 11 am and the opening following.
The Italian culture has a rich tradition of inviting people to our neighborhood and into our homes. We would like to continue that tradition by creating a beautiful Italian inspired Piazza that everyone can visit and enjoy. St. Louis is a city rich in neighborhoods, we would like to invite people from all over to visit our neighborhood and the Piazza Imo.
T-shirts commemorating the event are available for pre-order or purchase the day off the event.
DETAILS:
Save $5 and get your exclusive Piazza Imo Grand Opening t-shirt by pre-ordering now. Pre-ordered T-shirts will be available for pick up at the T-Shirt booth in the St Ambrose parking lot on August 18th, the day of the opening.
These shirts will be made one time and will not be sold at any time in the future. Order your part of The Hill history today!
Details:
Pre-Order Sales end August 17th
Pick up of your order will be by name. Please note what name your order is made under.
T-shirts will also be available for purchase on-site for $25